First, I'm sorry I've been away for a while. My mom, my friend Karen and I were directors at
Camp Winnataska
, the greatest place on earth. We had so much fun. When I got back, I hopped right into making my costume for the Harry Potter and the Deathly Hallows book release party. Normally I don't talk about business on my blog, but this is one of those times when they blissfully combine. I work at a fabulous library. We has a party from 10:00 to midnight so that people could come and pick up their reserved copies of the seventh Harry Potter book. There were games, costume contests, potion lessons, trivia, and so much fun! They asked me to dress up as the evil, vile, disgusting, mean Professor Umbridge. Here's my costume: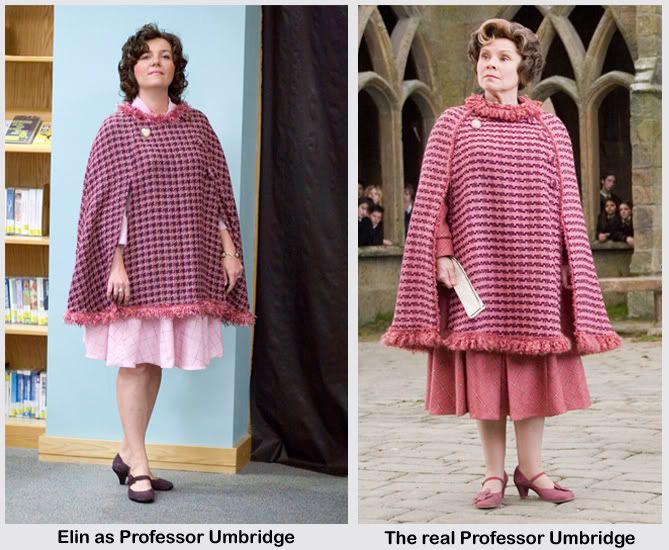 I had so much fun at the party. Scared some kids, gave some kids detention... it was a blast.
Here's another pic from the party of Professor Umbridge and Rita Skeeter: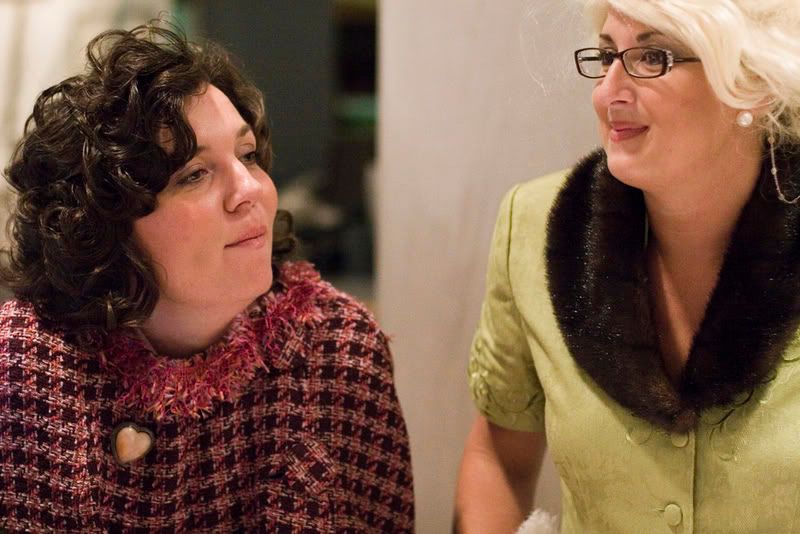 A few details on the costume:
CAPE

Pattern:
Simplicity 3959
, View D & E hybrid
Fabric and Trim:
The perfect purple and pink tweed from Hancock Fabric. The trim is a variegated chenille that was in the upholstery section.
Details:
The cape pattern fastened in the middle (
click for the line drawing
) which wouldn't do. It wasn't too difficult to change. I cut the front piece on the fold instead of the selvages. The worst part of this plan was to redraw the pattern for the front and side front facings, but it wasn't that bad. The other major change was to omit the lining, which I didn't feel was necessary in Alabama in July. Four large fabric covered button holes, and that was that.
SKIRT

Pattern:
Simplicity 4546
, View A
Fabric:
Linen, cotton, poly blend
Details:
The only change to this was that I cut the skirt pieces on the bias.
Any other question... let me know.
Hem, hem
Elin "Professor-Umbridge" Glenn