So my friend
Jennifer
, has a
beautiful daughter
who was born on my birthday las year. Since I love my birthday, I find it cool that I know so many people who share it: (Mr. Carlson, Geoff, Eve, Dollie, and that's just the people I know), I thought I'd make Eve a new outfit. And since she is growing like a weed, I gave it too her a bit early so she might be able to wear it. The full pattern review is below the picture of the dress. I'll see if I can get some action shots.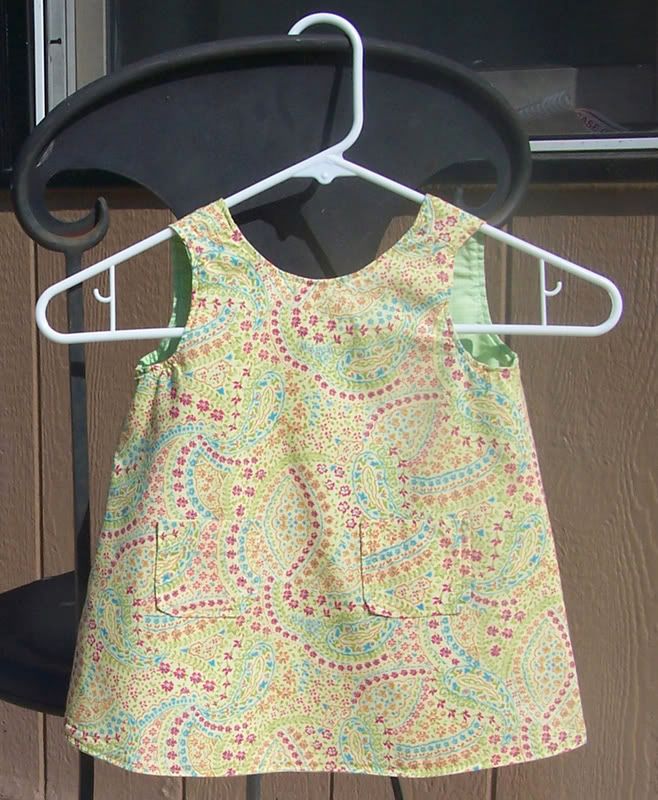 My pattern review (from
pattern review
)
Hat and Panties
Back of dress
Pattern Description:
infant dress, hat and panties
Pattern Sizing:
s, m, l & xl, I made the xl (sized for 18-24 months).
Did it look like the photo/drawing on the pattern envelope once you were done sewing with it?
Yes, but I lined the dress and the hat with a different fabric.
Were the instructions easy to follow?
They we very easy to make. The pattern is listed as an "Easy Sew and Save." While it was easy, I expected this to be a quick project. It took me longer than expected, but was well worth the effort.
What did you particularly like or dislike about the pattern?
I love the hat and the dress. I think that there must be an easier way to construct the panties. If I make this again, I will do some experimenting to see what I can come up with.
Fabric Used:
Outside: pale yellow with hot pink, green, and blue paisley. Inside: green and white small printed check. Trim: hot pink grossgrain ribbon
Pattern Alterations or any design changes you made:
I added pink ribbon to cover the side seams on the panties. I also lined the hat and the dress in a different fabric. I substituted the ribbon or the bias tape for the panty trim as well (which may have added to the difficulty in their construction.)
Would you sew it again? Would you recommend it to others?
I would make this again. It was a gift for a friends baby (who shares my birthday). It was an easy project with good results. I hope that it will be a quicker sew next time.
Conclusion
I love this style of dress for baby girls. It looks so summery and comfortable. When I found this pattern on sale, I know that I had to buy it to make a gift for my friend's daughter/birthday buddy.